Every KLG Rutland porch is individually designed and made to measure to suit the style of your home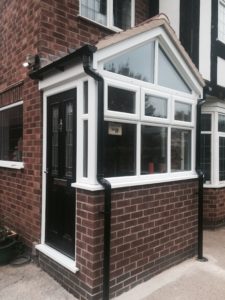 Every home has its own unique style and character, and first impressions are so important. That's why every KLG Rutland porch is individually designed and custom made from top quality materials by our team of professionals to create the perfect entrance to your home.
As well as getting valuable additional space, your home will also benefit from a new security barrier and greatly improved insulation against both noise and cold winter weather.
Rest assured that we'll take care of everything, from the base-build and brickwork through to the internal plastering and electrical work and the fitting of the door, windows, panels, roof and guttering.
We really do have a porch for every home!
Why KLG Rutland?
We fully appreciate that any new home improvement purchase has to be carefully thought out. You are not just buying windows, doors, conservatories, fascias and soffits – you are buying a dream
Reasons to choose us
So why choose a KLG Rutland porch?
There's so much more behind a KLG Rutland door
As well as every KLG Rutland porch being uniquely designed to suit your home and budget, we also offer a range of entrance door and Nottingham made window finishes for the perfect finishing touch.
We've many different styles and colours in our huge range of composite doors – with more design options available – you only have to ask
A secure front entrance door means a more secure home
KLG Rutland entrance doors not only offer you a great choice of designs and colours, but they also incorporate high-security locking mechanisms, hinges and handles.
A KLG Rutland entrance door ticks all the boxes:
Great appearance, great value
Range of styles and colours
High-level security
Fully weather resistant
Energy efficient to keep your heating bills down
Sound insulated
Durable and long-lasting
10-year warranty
The finishing touches… It's your choice
Every porch door comes complete with multiple options of furniture colours and glass designs. Why not enhance your door or window panels with decorative glass that complements your personal taste? We provide a huge range of styles for every door or window, and whether you want it to look subtle or striking, in clear or coloured glass, you can be sure that we'll have the choice for you.
Be sure to get in touch with our team for further consultation.
10-year warranty on KLG Rutland porches
Every KLG Rutland porch is covered by a comprehensive 10-year warranty, providing you with complete peace of mind backed up with the DGCOS insurance guarantee: if you aren't completely satisfied with your new porch, you have access to free arbitration from the Ombudsman.
Download our porches brochure
Our PDF brochures include a great overview of our product range. Enter your email below to receive a downloadable version, or come into one of our showrooms today and get a free printed copy.