Enjoy peace and quiet with KLG Rutland's 'Tranquility' noise reducing windows
Keep unwanted noise out of your home by replacing your existing windows with our noise reduction windows. They have been specially designed to reduce the amount of sound entering or escaping from your home, they also add an additional layer of security.
The windows have been designed with a new laminated acoustic glass which has a special polymer layer sandwiched between the panes of glass, specifically engineered to disrupt and absorb sound waves and reduce noise pollution.
Whether you install our Tranquility windows in your bedroom, living room or everywhere in your home, you will notice traffic noise is quietened, shouts from the street become mere whispers and you can sing loudly without worrying about an audience outside.
Standard A-Rated noise reduction windows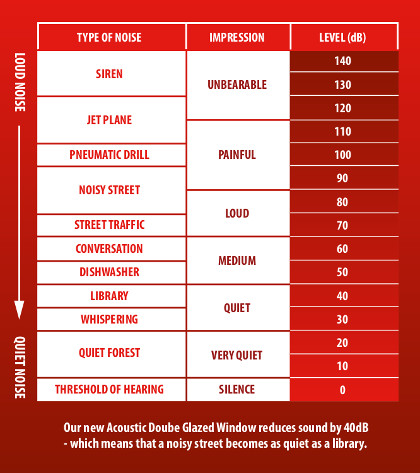 KLG Rutland's standard A rated windows provide a sound protection level of 31 decibels (dB).
After replacing your existing windows, noise levels can be reduced by 40dB!
With extra glass thickness you can also benefit from better heat proofing meaning lower heating bills as well as a considerable difference to noise.
Tranquillity Noise Reduction Windows
If you require an even higher level of noise reduction – you might live near a busy road, next to a railway line or under a flight path near an airport – you can opt for our Tranquillity range of sound reducing windows.
They offer a superb level of 40dB sound insulation – significantly greater than standard and single pane windows – to give you even more peace and quiet. Not only does the soundproofing reduce external noise, they also help reduce the amount of noise that escapes through your own windows, increasing your privacy.
In addition to its exceptional noise reducing qualities, KLG Rutland's Tranquillity windows have great thermal performance and are highly secure as the lamination process means the glass is virtually impossible to break, making them safer, too.
Acoustic Vents
To achieve building regulations on properties in noisy locations acoustic window vents are the answer.
Ask about our high-performing acoustic trickle vents for windows that help block out noise but let fresh air in to create a comfortable, well-ventilated environment that also helps combat condensation. Giving you the ultimate tranquillity window.
When and where to use noise reduction windows
You might not need noise reduction windows in every room in your home. When deciding where to use noise reduction windows it is important to think about the layout of your home, which direction your rooms face and how you use each room.
For example, you may want to install our Tranquillity noise reducing windows in your bedrooms if you live on a noisy road to help get a good night's sleep, and in your front room to stop noise disturbing your favourite show or music. Whereas, you may opt for standard windows in your kitchen so you can still hear the birds singing.