People often opt for a small conservatory to avoid taking up too much garden space, save money for other projects, and avoid the need for planning permission (visit our conservatory building regulations FAQs for more information). Whilst these are all sensible reasons to choose a smaller garden room, there are a number of great ways to make the space feel more expansive.

This guide explores a number of tips to make the most of a smaller conservatory. Starting with a look at some interior design principles that should help to make any small room look larger, we'll move on to discuss more specific small conservatory furniture ideas for you to try out in your home.
---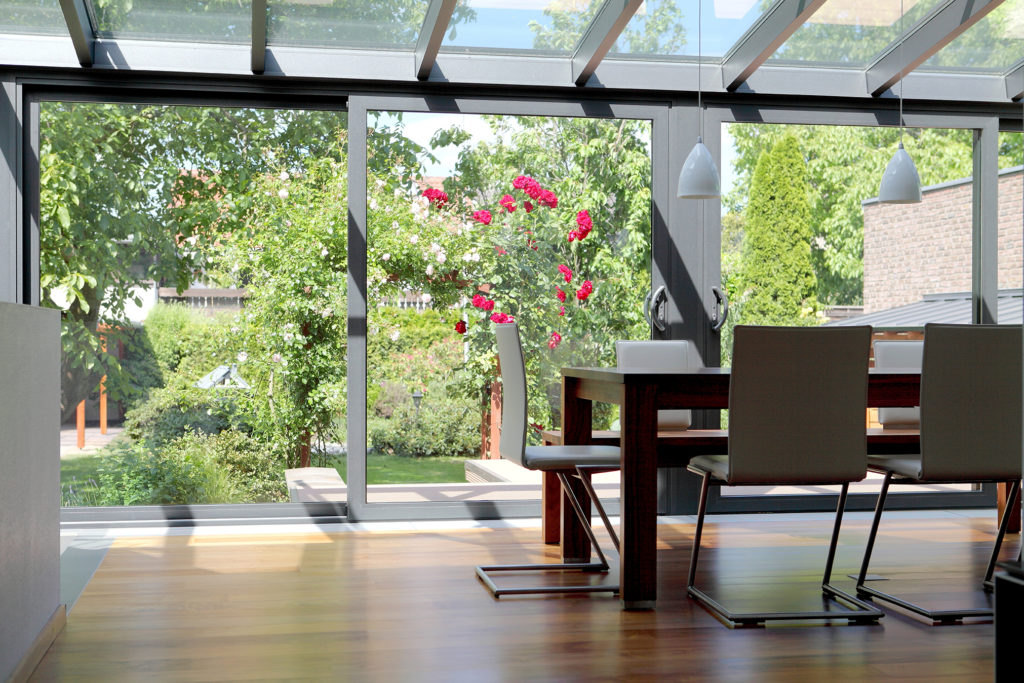 ---
Interior design choices
This section explores three fundamental design principles that can help to maximise the space (or perception of space) in your conservatory, from picking colours to choosing a layout.

1. Keep things light
Light colours make a room look larger. Nowhere is this more true than in conservatories, which are designed to let light in and offer a great view of your garden. White hues reflect sunlight around the room to create the illusion of space, whereas darker colours absorb light and have the potential to make a room feel oppressive.
With this in mind, think carefully about colours when picking the decor for your conservatory:
If you have an orangery or brick-walled conservatory, paint the walls in a light shade;
Small, brightly coloured plants can make a space feel more open (but don't go overboard);
If you're putting a carpet or rug down, choose a relatively light colour;
Avoid dark types of wood such as mahogany and walnut if possible.
2. Pick a minimalist layout
As with any room in your house, make sure that there's an easy access route through your conservatory. If you're going to have a seating or dining area, position this away from the path that someone would naturally follow when walking through to get to the garden. This simple but significant rule helps to create a more open-plan space that guests will enjoy sitting in.
3. Reduce clutter
Reducing clutter is a highly effective way to give the impression that a room is bigger than it really is, although this is easier said than done (particularly in a lively family home!) When planning the layout of your conservatory, try to keep electrical sockets towards the corners as this will stop electrical equipment from taking up the middle of the room. Another practical tip is to hide away the wires themselves using cable organisers.
---

---
What is the best furniture for a small conservatory?
When thinking about what to put in your conservatory, remember that it's best to keep things minimalist if you want the room to seem bigger. The tips below should serve you well:
Try not to overload the space with sideboards and decorations;
Avoid dark items of furniture where possible (that said, make an exception if you find something that particularly suits the style you're going for);
Steer clear of large items like bookcases unless they're the main feature of the room.
---
We hope you've enjoyed this post on how to make a small conservatory look larger and found some inspiration for your own home.

With the right approach and some clever furniture choices, even the smallest of conservatories can end up being a great addition to your home that you and your family love spending time in.

If you're considering a renovation of your conservatory – or even converting it into an orangery – get in touch with us to discuss your plans.